Wicklow

Brief History of Wicklow
Wicklow is a county just one hour south of our Capital Dublin. Known for its scenic coastlines, mountains, valleys, lakes and monastic areas. Whether you are interested in the outdoors like hiking up a mountain or just looking for a small scenic walk, Wicklow National Park has both to offer. Some of the most popular areas in Wicklow to visit are Glendalough, The Sally Gap & Powerscourt.
Glendalough was founded by St Kevin in the 6th century, it is an Early Medieval monastic settlement. When visiting Glendalough there is a visitor center where you can get information, some of the highlights of the area not to be missed include, the Round Tower, St Kevin's Church the Upper Lough and The Miner's village.
The Sally Gap is two east-to-west passes through the Wicklow mountains. Highlights while passing through the Sally Gap you will see Glencree valley, Lough Tay, Kippure Mountain and Glenmacnass Waterfall. Most recently made famous for being in numerous movies scenes, in particular the iconic PS I Love You bridge.
Powerscourt is a large estate in Enniskerry, consisting of the main house, landscaped gardens and Powerscourt waterfall. With the size of the estate and then also the waterfall there is plenty to do there for the whole family.
Planning your trip to Wicklow
How long should I stay in Wicklow?
Wicklow has so much to offer, by staying a night or two you will not be bored. There are numerous options for accommodation across the county. However, if you only have a limited amount of time, a day tour from Dublin, tends to cover the most important areas and main point of interest.
Where is the best picture opportunities in Wicklow?
Looking for that perfect picture, Wicklow is very picturesque, these are our top 10 photo stops:
Powerscourt Gardens
Powerscourt Waterfall
Powerscourt main house
PS I Love You bridge
The Guinness Lake
Avoca Village
Upper lake, Glendalough
The Cross on Bray head
St Kevin's Church & The Round Tower
The view from the top of the Sugar Loaf mountain
Relevant tours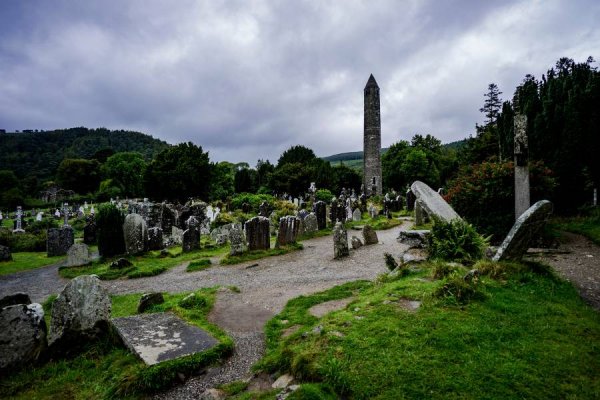 Booked 100 Times this week
VIsit in our day tour the Glendalough monastery, Beyond the Trees, Avondale, Hollywood...
Language
Irish Gaelic, English
Best time to visit
Wicklow is beautiful all year but the Spring is especially exciting as the baby lambs are born and you get to see them up close at the vivit to a real working Wicklow farm.